Are you looking to buy a black German Shepherd puppy of pure breed? You have come to the right place.
There is no doubt that German Shepherds are among the most popular breeds in United States and the world. In fact, they are one of the top breeds in America. Why wouldn't they? German Shepherds are incredibly loyal, intelligent, and beautiful. 
Now, the question is, how much is a black German Shepherd puppy cost? There's no specific answer to this question because the prices vary depending on different factors. 
SmithFarms German Shepherds – one of the best GSD breeder based in Badger, MN, is here to answer every question you have about German Shepherds. 
Here's everything you need to know about black German Shepherds:
Black German Shepherds are not separate breeds
One imperative thing you should know about full-black German Shepherd puppies and dogs is that they do not qualify as separate breeds. It's the color and coat that make them stand out. Also, black-haired German Shepherds are pretty rare, making them considerably expensive than others.
If a black German Shepherd is exactly what you want, SmithFarms German Shepherds can provide you with what you want. We breed German Shepherds of different colors, including black.
You will probably not find a solid & pure breed German Shepherd in a dog shelter because they are quite rare. Since GSD breeders specialize in breeding quality puppies, a breeding farm is the best place to go to for buying a black GSD.
Check out the black German Shepherd puppies for sale posts
Black German Shepherd puppies can cost up to $1,000 or more depending upon their bloodline and pedigree. If you want the best of the best, expect to pay at least one grand.
The price should also depend on where you get your pet from; you should look into local breeders first before going online. It's because there is no way it would be cheaper, and trust me when I say that these pets should never be cheap and be much expensive either.
When you look for German Shepherd puppies online, you will come across black German Shepherd puppies for sale posts. Check out these posts to see what the breeders have to offer.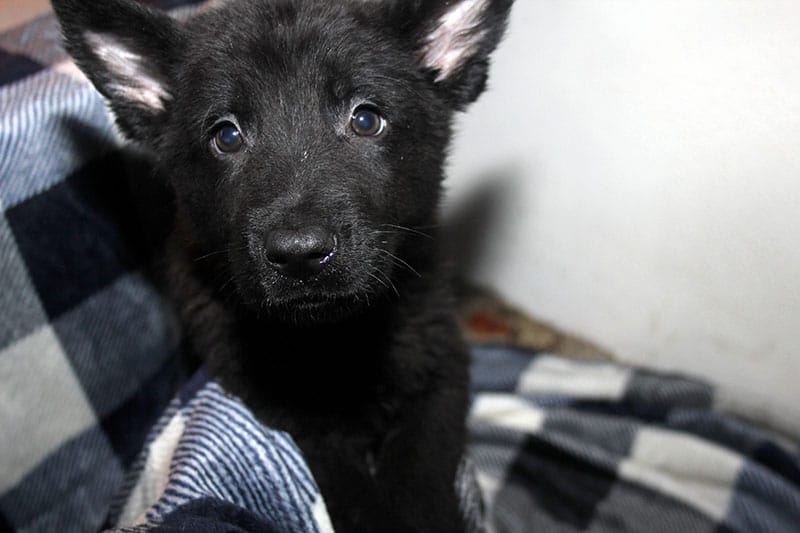 The cost of black German Shepherd dogs can be higher
Full Black German Shepard puppies can cost up to $1000. They are usually more expensive because of their color and coat. In fact, they sometimes can cost more than a thousand dollars if they have good breeding and pedigree. Also, the price should increase if you want a Black German Shepard Dog with show quality.
Black is a very popular color for people who want their dogs to match the family car or any other pieces of furniture that are already black in color.
As mentioned above, the costs of black GSDs can be anywhere between $700 to $1,000, depending on the quality, breeding regimen of the breeder, and pet store in question. You should be able to find Black German Shepherd Puppies for sale at reputable breeders and not pet store chains or other unscrupulous dealers.
What Makes Black German Shepherds A Popular Choice?
The black GSD breed makes a perfect pet for those who want to protect their home from any intruder who might come by to harm the family. It also helps that having a black GSD seems to be more popular among enthusiasts because people love them for their black color rather than the usual tan or fawn coats.
Black German shepherd puppies will have a shiny, coal-black coat to protect them from the sun's rays. Moreover, they are majestically gorgeous, incredibly intelligent, and ferociously loyal.
The traits, the color, the coat, and the appearance- everything about black German Shepherds' makes them special and stand out.
Owning a dog can be incredibly rewarding, but it's also a big responsibility. Not everyone has the time or resources to take care of a sick dog. That's why you need a healthy and AKC-registered puppy, and that's possible if you choose a trustworthy breeder.
Are You Looking To Buy A Quality Breed Black German Shepherd Puppy?
People want quality breed German Shepherds but don't want to deal with the hassle of finding a good breeder and worrying about health problems. Since not all German Shepherd breeders are equally reliable, you should make an effort to find a reliable one. Or else, you could end up with a sick dog or one that doesn't meet your expectations.
SmithFarms German Shepherds is a professional breeder of purebred German Shepherds. We have been in business for a long time, and our puppies are healthy and well-socialized. SmithFarms German Shepherd offers a 100% satisfaction guarantee on all of our puppies.
We only offer healthy and purebred German Shepherd puppies for sale that have been bred with the utmost care and attention to detail. Our primary goal is to provide the best possible service by offering pure breed German Shepherd puppies of any color- black, red, & mixed.
We have been in this business for a long time, gifting dog lovers with quality breed German Shepherd dogs. That's why people trust us as a German Shepherd breeders. SmithFarms German Shepherds takes pride in being one of the most reputable breeders in Badger, MN.
Do you have more questions about how much is a black German Shepherd puppy or anything else? We are just a phone call away.
We hope you've found this blog post to be helpful. Our goal was to provide some insight into the question, "How much is a black German Shepherd puppy?" As we mentioned before, there really isn't one answer because prices vary depending on different factors.
If you have any questions about how much a German Shepherd will cost or what could affect the price of a GSD pup for sale near me, please reach out to us! Our team at Smith Farms would love nothing more than to help you find your perfect dog, give you all the information you need, and offer tips on caring for them.