If you have a canine, you know that they love to chew. Gnawing and chewing is a natural behavior that keeps the puppies calm. In case you need to provide them with the best dog chew toys, you'll usually find that your shoe or the table legs are their favorite chewing things.
When choosing the things for your dogs, they can gnaw on, ensuring they have an interest. So, pick something enticing and appropriate for them so that it lasts long plus is safe for the puppies.
When you begin searching for their toys in the market, you will know that a wide variety of toys are available for them. It might seem overwhelming, so read on and find safe options for your pups.
The vets approved our list, which is the dog's favorite toy. Before diving into this topic, you must know that every toy has a safety warning. Please read carefully about the best dog chew toys, as that is the only way to ensure the safety of your four-legged furry member.
Best Dog Chew Toys:
These dried bull pizzles are an incredible choice for dogs to chew on, as they are high in protein and all-natural. It also provides hours of chewing pleasure for your pup! Also, fast eaters may gulp them down in no time, so keep track if you have a gulper at home.
Bully sticks are an excellent choice for strong chewers. They're long-lasting, delicious, and come in different sizes to suit any pup. As a bonus, they help to keep your dog's teeth clean and gums healthy!
Notable features of the bully stick:
Contain 100% natural beef
It breaks down tartar and plaque in the dog's mouth
It does not split into sharp pieces
It is digestible
West Paw Qwizl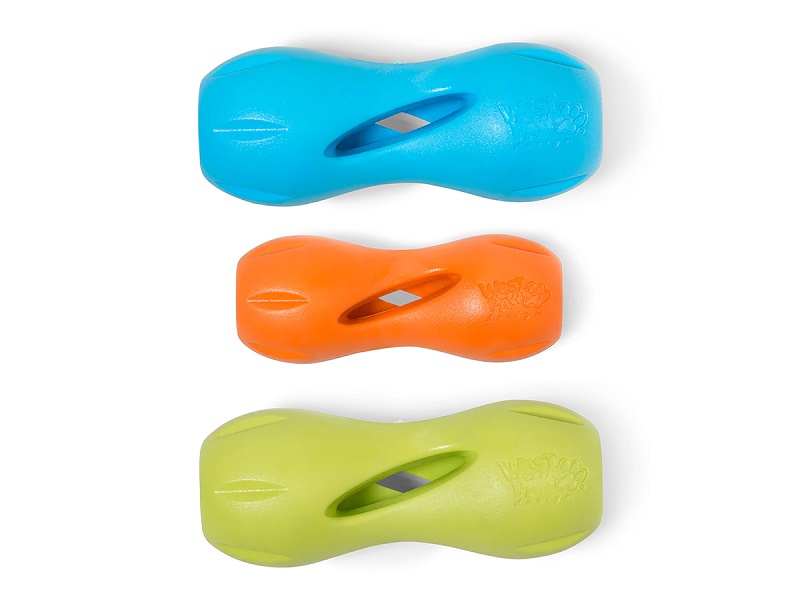 West Paw Qwizl
The qwizl is one of the tough toys for the canines that love to chew.
The toy is famous for its soft texture, supports jaw muscles, and is safe for teeth and gums. It doubles the therapy of the holder as it provides mental stimulation and slows down their eating process. The materials used in the making are entirely free from latex, phthalate, and BPA and are recyclable.
Moreover, the design is such that it gives the much-needed grip to the canine, enabling them to chew and move with the paw as they do.
Beams Ocean Chew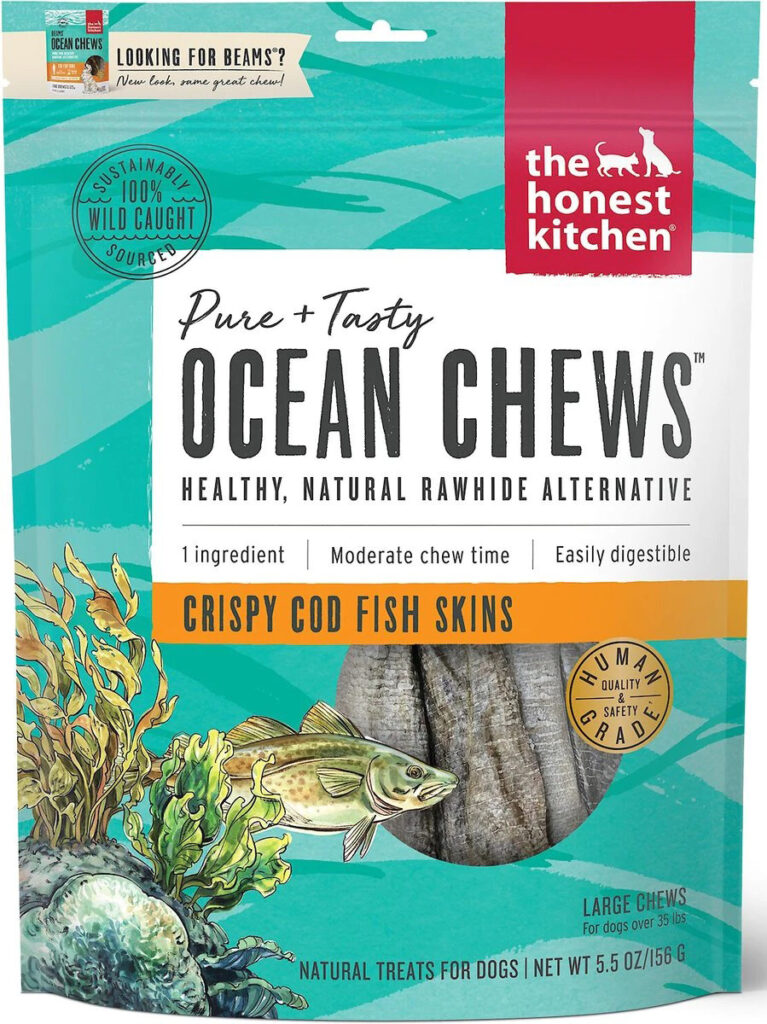 Beams Ocean Chew
Your pups will love it when you provide this fish skin chews prepared from wild fish caught from various sources.
You will be surprised to learn that it is a bonus to them as it is a source of omega 3s, which is very healthy for them.
Your puppy might devour them very quickly, so these aren't very hard for them to chew or gnaw. Moreover, the enthusiasm of the canine will determine how long it will last.
Notable traits:
Keep the puppy's teeth clean
Strengthens the gums
It is made only from a fish
It contains no preservatives, fillers, or byproducts.
Kong Classic
Kong Classic
When you read the classic work, you understand that it is a famous dog-chewing toy among users. It contains rubber that is soft yet strong, ensuring longevity.
Additional facilities include stuffing them with your pup's meal, small treats, etc. Sometimes your puppy might find the small opening frustrating because they need help to de-stuff completely. Sometimes they will completely give up, so you can opt for a replacement.
Kong classics come in various shapes and sizes, perfect for them to chew. So, you must pick the toy that suits the dog's chewing ability and does not frustrate them instead of having fun with it.
Notable features:
Durable rubbers are used in its making
The unique shape makes it an intriguing fetch toy
Kong has been manufacturing toys for dogs for more than 40 years.
Nylabone Dura Chew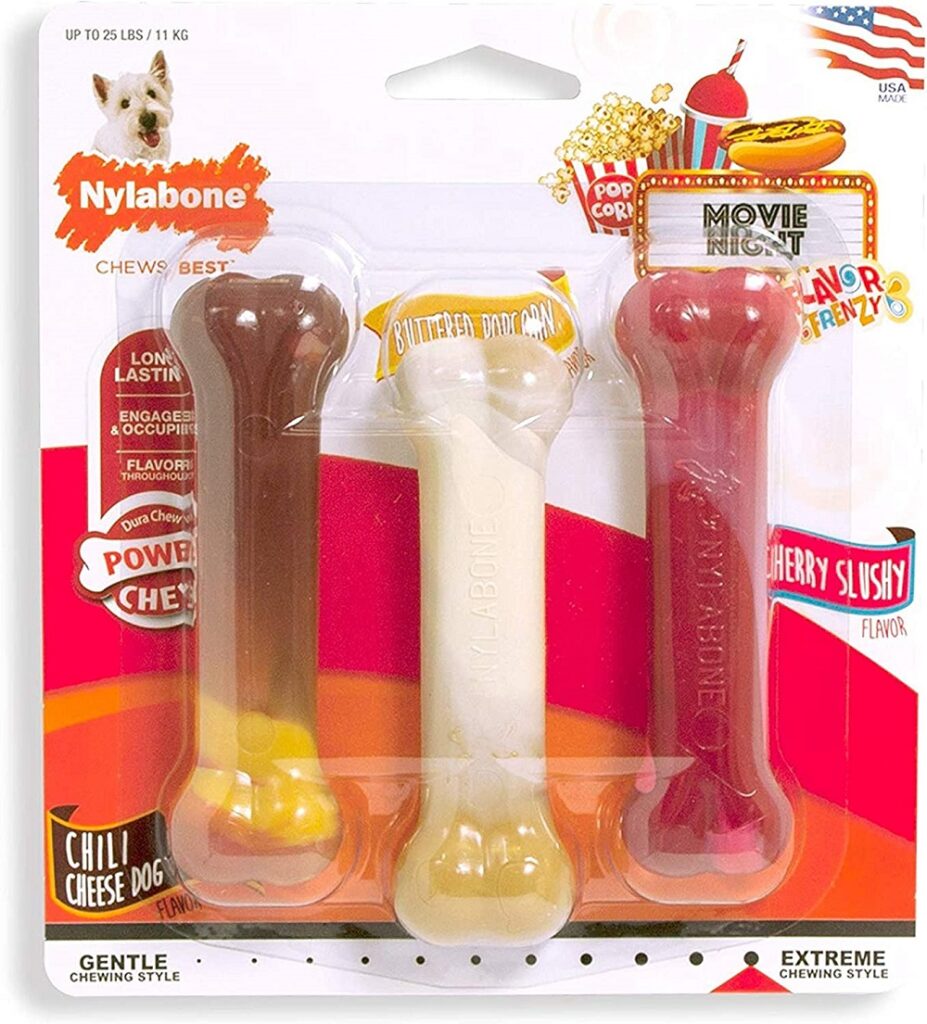 Nylabone Dura Chew
Nylabones are utterly safe for the puppies as they do not splinter or crack up.
There are varieties for you to choose from the softest ones to the hardest ones. These are soft for the puppy's teeth as they can chew continuously without harming their teeth. You can also get nylabones with different flavors that are more enticing for the puppies.
Alternatively, you will find that some canines still prefer the synthetics chews despite having an awkward smell, something like chili cheese dog. Alternatively, many dogs love them and are a perfect fit as their chewing and gnawing stuff.
Notable features:
Keeps the tooth clean by removing tartar and plaque
Available in different sizes
It comes in varying flavors and combos
Goughnuts Chew Stick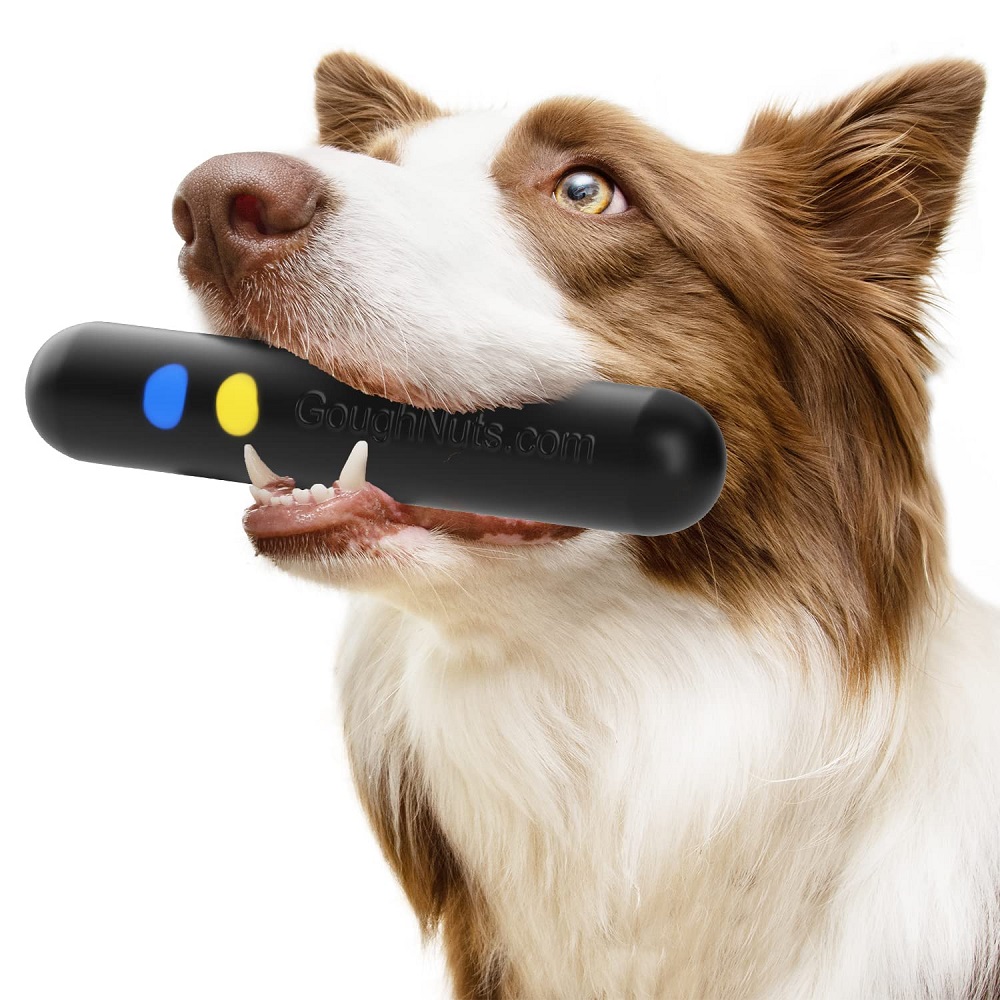 Goughnuts Chew Stick
Vets suggest that these Goughnuts chew sticks are ideal for rugged chewers and puppies prefer these sticks
These fall in the heavier category, making them more durable and one of the best fetches for the canines to play because it helps them work out.
Since it contains soft rubber, it is not only more accessible for the dogs to chew but ensures stronger gums, gum muscles, and teeth. However, if your dog likes chewing wooden sticks, which is not safe for them, consider this one of the best alternatives.
Himalayan dog chew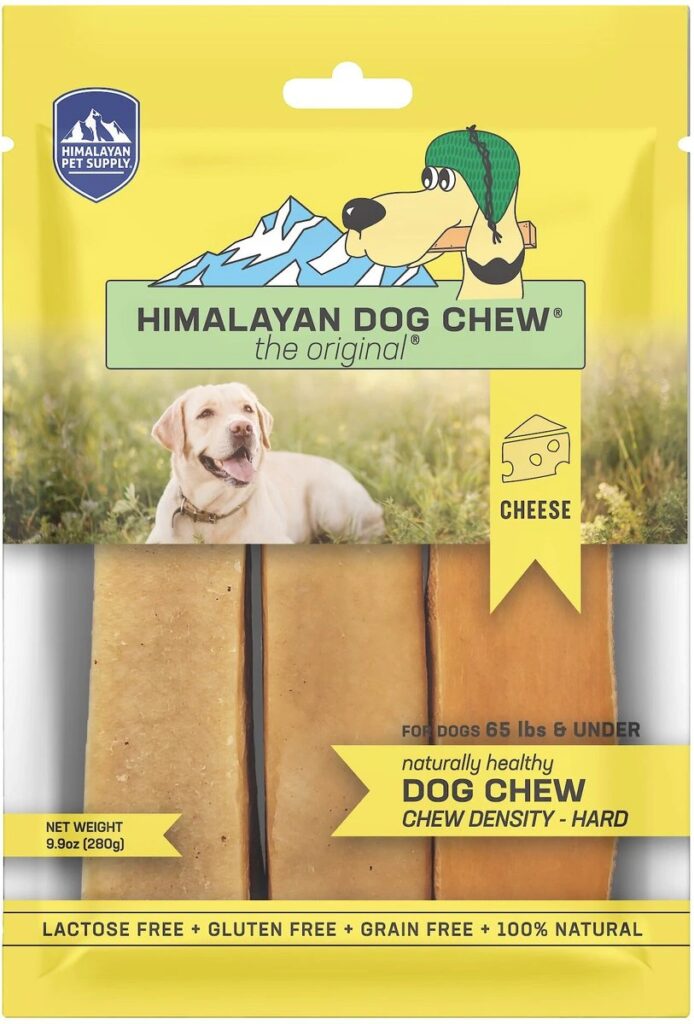 Himalayan dog chew
It is a grain-free chew made from yak cheese. These are delicious, as dogs love them and can spend time nibbling them.
One of its unique characteristics is that it is suitable for small and large breeds. So when it comes to German shepherds, they can easily break them into pieces. So you must ensure safety if you have a powerful chewer.
Notable features:
Made from natural ingredients with zero preservatives
Available in various sizes and tastes
Micro oven-friendly, so you can make it a tasty treat for the canines.
Hyper Pet Dura-Squeaks Peanut
Hyper Pet Dura-Squeaks Peanut
You must know that hyper pet dura squeaks peanuts are distinguished for senior dogs and light chewers.
It's perfect for fetch games because it is lightweight and even floats in the air, which helps the pups, play around and have fun. These products are immaculate if your dog is a slow or medium chewer.
Hyper Pet Dura-Squeaks Peanuts are made from EVA foam that is soft for them and does not harm their teeth. Therefore, it is suitable for senior dogs that have sensitive gums and teeth. However, pick up a more challenging material if the canine likes shredding and crushing toys, as this one will be destroyed in no time.
Chilly bone dog chew plaything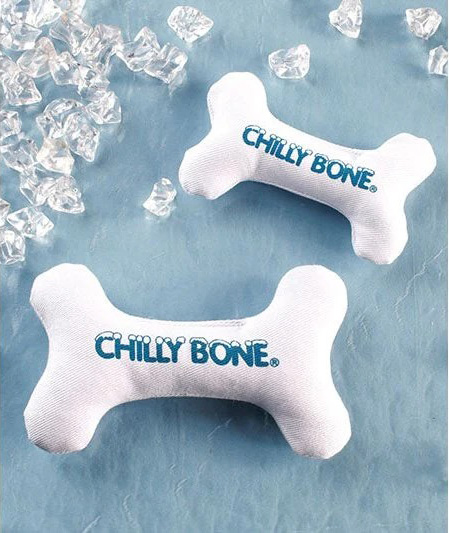 Chilly Bone Dog Chew Plaything
When it comes to this toy, you will know that it is a simple concept that gives you an excellent win.
This particular canvas is a flavored toy that freezes fast that gives your dog a crunchy feel.
It is an incredible treat in hot weather for the canines. Users must know that it is not the most durable but lasts longer than ice cubes. Therefore chilly bone dog chews toy is fun in hot weather doggy treats.
Notable features:
Wet the bone and pop it inside the freezer
Designed for medium and small-size canines
It is perfect for chewing as it helps maintain healthy teeth
Outward Hound Firebiterz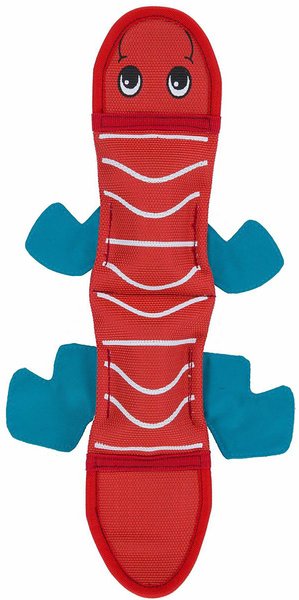 Outward Hound Firebiterz
Those who know their dogs are in love with the stuffies but destroy them in no time must understand that this is a favorable choice for puppies who adore destroying soft toys.
Therefore, you must look for rigid materials such as outward hounds.
Outward Hound FireBiterz is manufactured using firehose material that can withstand chewing, making it difficult for the canines to rip faster. So, you must know that there is no stuffing that will lead to meaningless cleanup. Also, you need to worry about the dogs inhaling the toys leading to intestinal blockage.
Even the younger dogs' chewing needs are fulfilled using this toy. Therefore, it is hard for them to look for weak spots for chewing. You may watch them move and shake around with it as it suits their requirements.
Benebone Wishbone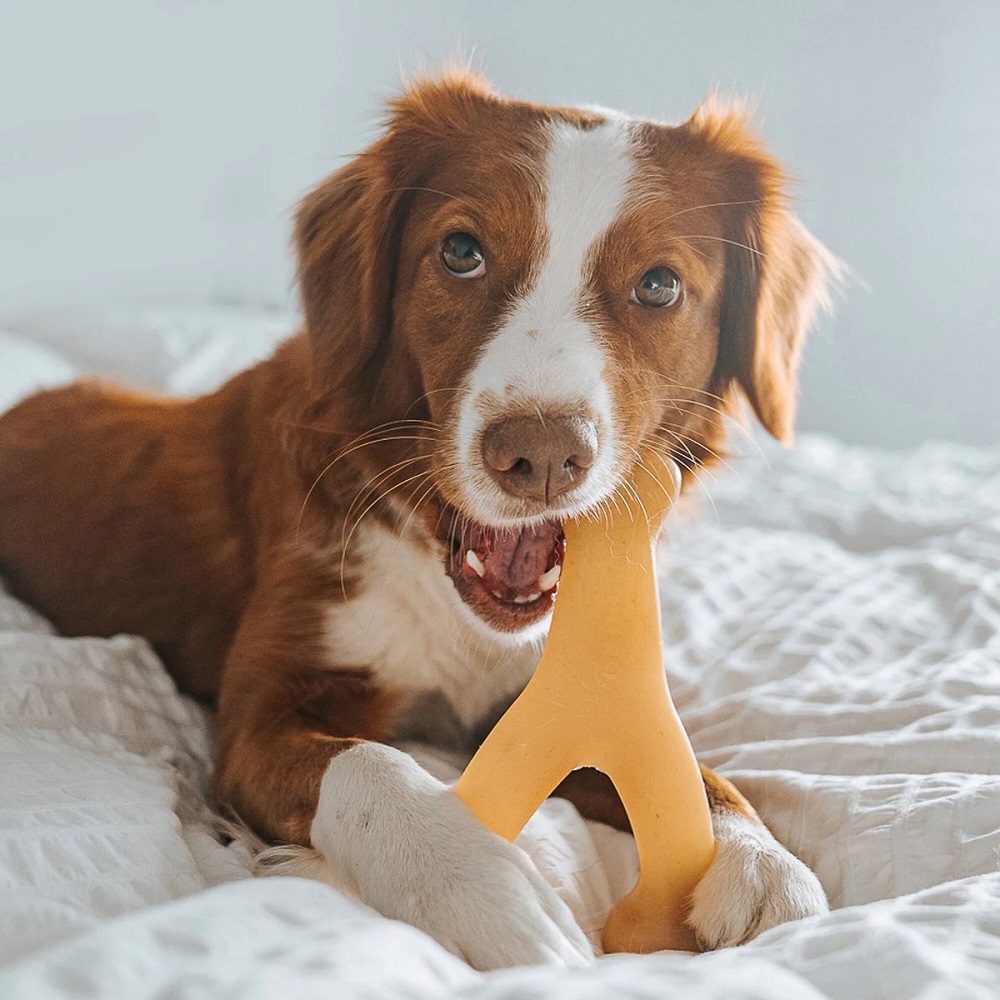 Benebone Wishbone
Benebone wishbone is made of nylon and has an exciting shape that gives the dog maximum chewing pleasure.
These are safe alternatives to edible chews when you aren't home. Your job is to pick the best product depending on the dog's size.
Notable feature:
Benebone is known for donating to shelters daily
It has a design that provides your dog with a good grip
It suits their chewing requirement, and the paw
Available in various flavors and sizes